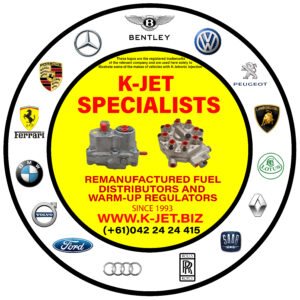 Please email me about anything you need or want to know. I have lots of parts including exchange reconditioned Fuel Distributors and Warm-Up Regulators available, Auxiliary Air Slides, Auxiliary Air Valves, D-Jet Manifold Pressure Sensors, Mechanical fuel injection pumps and much more for your classic European car.
Reconditioning Fuel Distributors and Warm-Up Regulators since 1993
All Fuel Distributors and Warm-Up Regulators are sold on an exchange basis. We need your old one back to continue our business and to supply to the next person who needs one.
12 Month Guarantee on parts and workmanship (unless damaged by dirt and/or water in the fuel). We rebuild our Fuel Distributors and Warm-Up Regulators with many parts, custom made for us, so that our remanufactured parts meet the highest standards.
​
We can recondition your own part if you want this to be done.
Fuel Distributors can be up-rated for extra power and performance on request.
We want your old Fuel Distributors and Warm-up Regulators. Contact us to tell us what you have.
All Fuel Distributors tested on our Bosch KDJE-P 200 flow benches, our Warm-Up Regulators are set to Bosch original Specifications on our bespoke test bench.
All our parts are sold on an exchange basis, unless we are reconditioning your own part. We need your old part back so that we can recondition it for the next person in your situation, needing a reconditioned part. So please don't delay in returning your old part.
All prices are in Australian dollars
We use the best quality seals which are compatible with all fuels, although we do recommend avoiding ethanol based fuels where possible. But we also build fuel distributors for racing cars that run e85 and our seals are totally fine with that fuel.
Many of our seals are not 'off the shelf' but are made for us to our specification. Our diaphragm material is also made for us and we have diaphragms for our KE fuel distributors and KE Fuel distributor kits are pre-shaped for better immediate function.
Colin has been a mechanic since 1973 and has specialised in European cars since 1979 when he moved to London, England.
In 1990 Colin moved back to Australia and continued servicing European Cars.
In answering the demand for someone with a solid knowledge of the K-Jetronic fuel injection system, Colin began reconditioning Fuel distributors and Warm-up regulators for other mechanics and offering them technical help in diagnosing fuel injection problems.
Initially trading under the name 'Agape Autos', K-Jet Specialists has been reconditioning K-Jetronic Fuel Distributors and Warm-up Regulators, and KE-Jetronic Fuel Distributors since 1993.
We also recondition D-Jet MPS, Auxiliary air slides, auxiliary air valves and mechanical petrol injection systems. We have the experience and ability to recondition almost any part, so if you are restoring a classic European car and can't find a part, we may be able to recondition it for you. Let us know what you need and we will try to help you.
Each part receives a serial number so that we can trace it's history, when it was reconditioned, when it was sold and where it went.
Over the years we have sold reconditioned parts to many countries including Australia, Austria, Bahrain, Belgium, Bolivia, Bratislava, Brazil, Bulgaria, Canada, China, Columbia, Cyprus, Czech Republic, Denmark, Ecuador, Egypt, England, Estonia, Finland, France, Germany, Greece, Guatamala, Hong Kong, Hungary, India, Indonesia, Ireland, Israel, Italy, Japan, Kazakhstan, Korea, Kuwait, Latvia, Lithuania, Luxembourg, Malta, Mexico, Netherlands, New Zealand, Norway, Peru, Philippines, Poland, Portugal, Qatar, Romania, Russia, Saudi Arabia, Singapore, Slovakia, , Slovenia, South Africa, Spain, Sweden, Taiwan, Thailand, Turkey, UAE, Ukraine, USA. So we are happy to send to you, wherever you are.
Delivery for Fuel Distributors and Warm-Up Regulators can be with DHL Express, so you have your part within 3-5 days, no matter where you are or we also offer delivery through AusPost, either express with 5 to 10 day delivery, or standard delivery is normally 10 to 20 days.

Our biggest issue is operating on an exchange basis. We need to have old units returned to us to maintain our stock levels. Also it is becoming more difficult to find old parts laying around in workshops to help boost our stock. The more we have, the better we are able to supply customer's needs quickly and efficiently. So if you have old parts, please let me know.